Amargo-Angostura Vallet
Amargo-Angostura Vallet is a 90 Proof bitter liqueur made from Angostura bark and a maceration of cherry fruits, cloves and other roots and spices. Herbal notes of bittersweet dark chocolate and citrus rind balance an earthly richness to create this world-class elixir.
Specifications
6/750 ml
Proof: 90 Proof
Case Weight: 22 lbs
Case Dimensions: 9" L x 7" W x 13" H
Cases per Pallet: 22cs x 4 tiers
UPC CODE: 8 87049 00002 0
SSC CODE: 3 08 87049 00002 1
↓ Download Sell Sheet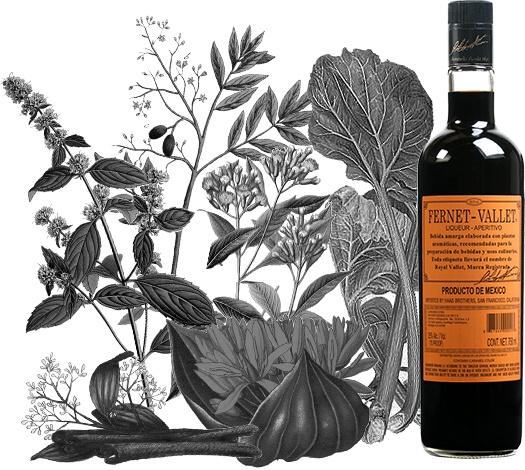 Fernet Vallet
Fernet Vallet is a 70 Proof fernet liqueur made from a maceration of aromatic plants, roots and spices including cinnamon, clove, Quassia wood, gentian root and cardamom. An intensely herbal, woodsy digestif, Fernet Vallet enjoys popular usage throughout Mexico in the preparation of both classic and modern cocktails.
Specifications
6/750 ml
Proof: 70 Proof
Case Weight: 22 lbs
Case Dimensions: 9" L x 7" W x 13" H
Cases per Pallet: 22cs x 4 tiers
UPC CODE: 8 87049 00001 3
SSC CODE: 3 08 87049 00001 4
↓ Download Sell Sheet